New hydrating Intraceuticals Oxygen facial service in Pagosa special price.
Hydrating Intraceuticals Oxygen Facial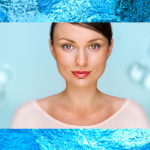 Treatment Special
– begins now and runs through 11-21
This is the most deeply hydrating spa facial service offered in our area. You would have to travel to Telluride or Sante Fe in order to get access to this incredible technology. It transforms our dry and weathered Pagosa lady skin to plump, full hydrated tropical skin. If your skin is thirsty, this treatment is for you. The technology is a combination of serum pushed into your skin using a hyperbaric oxygen bubble and ultra low weight sodium hyaluronate (hyaluronic acid) in a line of home care products. The result leaves your skin creamy, soft, and radiant. Like everything at Queen Bee's organic skin care medi-spa, there is no down time or photo sensitivity from using this service. You will leave the hive looking and feeling deeply cleansed and renewed, ready for the holiday season.
We encourage you to do your research. To learn more about it, look for videos that show the results of this service on YouTube (use the words Intraceuticals and Rejuvenate). This is the facial service that movie stars like Madonna, Fergie, Jessica Biel and Justin Timberlake use all the time. https://www.youtube.com/watch?v=6aEEZOYzuiw https://www.youtube.com/watch?v=QlzWgXtFovg
During this promotion, you can book the service for 20% off – $180
and get the home care kit half ounce full program (retail $125) for $100
That means that for $280 your skin can feel deep hydration as if we live in a moist climate. The healthy, beautiful effects last for months.
You save $70 big ones.  If you were lucky enough to get one of our thank you gift cards, you will be able to also use that during this special.
For more information on this service, please see our spa menu.
https://queenbeepagosa.com/spa-menu/
To book your Pagosa Springs facial appointment, you can call or text: 970-316-2899 (buzz)
Queen Bee Skin Care is an organic skin care company that formulates and manufactures products in Pagosa Springs, Colorado.  Selling specialty skin care items online for years, some of which have been featured in the Denver Post, Amazon and Dr Oz's popular daytime TV Show.  Specializing in botanicals packed with nutrients from flower and seed oils that nourish your skin and spirit!   Like us on facebook!  To purchase your favorite organic skin care items, you can shop online at www.QueenBeeSkin.com or give us a buzz at 970-316-buzz