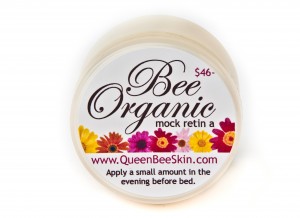 That is right.  We know you love this little magic night cream.  The beehive is heavenly scented with pink grapefruit and ylang ylang in the wake of a big batch!  Order now, it goes fast.
Thank you for your patience while we experience growing pains and have run short on a couple of our items.  We appreciate your bizzness and would be happy to ship out some Bee Organic Mock Retin A if you would like one.  We also have tons of the sample size of this baby now in the jars too!
Queen Bee Organic Skin Care formulates and manufactures products in Pagosa Springs, Colorado.  They have been selling specialty skin care items online for years, some of which have been featured in the Denver Post and Dr Oz's popular daytime TV Show.  Specializing in botanicals packed with phyto-nutrients that nourish the skin and spirit!  You can find Queen Bee on facebook too!  To purchase your favorite organic skin care items, you can shop online at www.QueenBeeSkin.com or give us a buzz at 970-316-buzz.