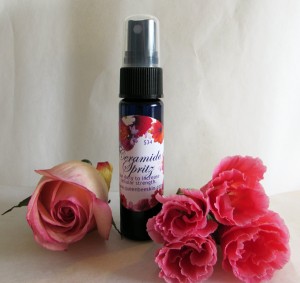 Ceramides are in the skin care news often these days, with proof that this critical part of our barrier needs a little boost as we age.  If you think about your skin in parts, you can image the skin cells are being held together with a binding agent.  That binding agent contains three parts and a very important part in allowing flexibility and strength in our skin come from ceramides.  There is lots of new research showing that we can use topically applied ceramides to restore the health of our skin.
Recently, Dr Oz did a show with plastic surgeons where he mentioned phyto ceramides in pill form as a great new anti-aging product.  This got us researching again and we are happy to report that our new spritz is vegan and also paraben free.
Our phyto ceramide night time repair spritz will send you to heavenly dreams with this high top note scent including jasmine, ylang ylang and rose.  The ceramide complex will work all night restoring structive to the layers of the skin.  In our product, they are enhanced with allantoin which works which stimulates cell growth and repair while simultaneously depressing inflammation
Most ceramides come from animal fat such as sheep's wool making it a product that Queen Bee avoided.  Our new partner in Germany makes this product possible by providing us a phyto-ceramide product which restores the protective barrier function of the skin.  It is ideal for aging skin, dry skin and sensitive skin.  This new ceramide complex offers enhanced delivery and exchange of skin lipids and is non-animal based cholesterol (vegetal-derived, semi-synthetic cholesterol).
We hope you will consider adding this to your night time routine.  Give it a couple weeks and see if you can see the same visual improvement in your skin that we can see with our tester group here in Pagosa Springs and Boulder.
Queen Bee Skin Care is an organic skin care company that formulates and manufactures products in Pagosa Springs, Colorado.  Selling specialty skin care items online for years, some of which have been featured in the Denver Post, Amazon and Dr Oz's popular daytime TV Show.  Specializing in botanicals packed with phyto-nutrients from flower and seed oils that nourish your skin and spirit!   Like us on facebook!  To purchase your favorite organic skin care items, you can shop online at www.QueenBeeSkin.com or give us a buzz at 970-316-buzz.