Luxury Oil Collection from Queen Bee ready for the holidays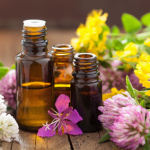 The ultimate stocking stuff just arrived.  We created them as a way to say Thank You to our online shopping customers.  Once they are gone for the year, they will be gone.  So if you enjoy the scent of our products, you will want to get them while they last.  They come in the following scents Love Potion, Smokin Hot, and Happiness.
Here is a list of how to use them.
Uses for Luxury Bath Oils
These new heavily scented treats are sure to be a hit in your handbag or in a stocking.  Think of them as essential oil perfumes with oils.  They are made in a base of high dose omega filled chardonnay grapeseed oil.  For true aromatheraphy, you place drops on your pulse points including the base of your neck.  Drizzle some into the palms of your hands, rub together and inhale deeply.  Of course, you can use them directly on your skin for moisture or use them to scent other things like oils, a bath, hand creams. We use them with a little raw shea butter on our hands or in coconut oil as a massage oil.  Here is a list of other unexpected things you can use them for:
•    drizzle some in your palms, inhale scent and then use as an afternoon moisturizer
•    add a few drops to pillow case when traveling
•    add to a candle before lighting to heighten it's aroma
•    chase away the blues
•    deoderize your garbage disposal with a few drops
•    to be used as an underarm deoderant
•    to be used as perfume on the body – put a drop on each of your 16 pulse points
•    to create a restful sleep – dap on your temples
•    to create an intimate massage
•    to customize a foot bath – add a few drops to warm water, foot soaks
•    freshen your shoes with the scented cotton balls
•    mix with water into spray bottle to make water used when ironing or as room freshening spray.
•    scent your shower by placing a couple drops and allowing the steam to activate before entering
•    sooth chapped hands
•    use to calm nerves
•    soothe a skin irritation
•    to customize your favorite hand cream drizzle together in palms
•    to be placed directly on the scalp for a lift of aroma
•    to customize your shaving products
•    to deoderize bare feet – just place drops directly on skin
•    aromatherapy – put on the nape of the neck when hair is wet
•    use as an inhalant just wipe under nose
•    to freshen a ventilation system (home office) put a few drops on tissue on vent
•    to freshen car, a scented cotton ball or drop directly onr dark floormats
•    to freshen clothes while traveling, pack with a few drops on a cotton ball
•    to freshen gym locker, pack a scented cotton ball
•    to freshen hotel carpet, place on cotton balls and place in corners
•    to freshen scarf, mittens, boots, hats in the winter just add a drop
•    to freshen the bath, add a few drops to the bath water directly
•    to freshen towels – scent directly with a drop or two, or add scented cotton balls to laundry
•    to keep musty smell out of stored boxes, pack in scented cotton ball
•    to remove travel smell, place drops on tissue and gently brush clothes
•    to stimulate senses just drizzle a few drops into palms.  Rub together and inhale.
Queen Bee Skin Care is an organic skin care company that formulates and manufactures products in Pagosa Springs, Colorado.  They have been selling specialty skin care items online for years, some of which have been featured in the Denver Post and Dr Oz's popular daytime TV Show.  Specializing in botanicals packed with phyto-nutrients that nourish the skin and spirit!  You can find Queen Bee on facebook too!  To purchase your favorite organic skin care items, you can shop online at www.QueenBeeSkin.com or give us a buzz at 970-316-buzz.