Get your real eyelash extensions in Pagosa Springs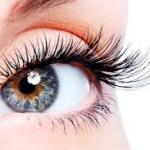 No need to mess with false lash extensions, when you can grow your own natural lashes for less money and without having your eyes taped open!  Ah.  The things we do in the name of beauty.
The Queen started using lash extensions before the holidays in 2012 and was quite disappointed to learn that you can't remove them.  Instead you wait for them to fall out.  When they were gone, so were her normal lashes.  She was left with short stubby new growth.  This product called Revitalash from Athena Cosmetics in Ventura California dramatically enhanced how quickly they came back.  We estimate our lashes here at the hive got about 30% longer than they were before the extensions and they were thicker.  So were so new and healthy, they didn't like to take "dye" for several weeks also.  Mascara went on just like normal.
If you haven't used this type of product before, it is similar to Allergan's Latisse.  You paint it on like a clear eye liner before bed at night.  After about a week, you will start to notice subtle changes.  Over the next month your own lashes grow thicker and fuller than in the past. We did not experience any skin sensitivities.  The results last quite a long time because you have encouraged your natural hair to grow instead of damaging the lashes with glue and chemicals.
As we age, we naturally lose volume both on our lashes and brows.  For many women this is a simple solution.  The revitlash brow is eyebrow product that works as well and we will have both in stock this week.
Here is the lowdown from Revitalash…
Enhance the look of luxurious eyelashes for dramatic, natural beauty.  This finely-calibrated breakthrough cosmetic formula addresses the visual signs of eyelash aging and stress – dry, brittle, lifeless lashes. A proprietary blend of scientifically-advanced technology and natural botanicals join in concert to protect against breakage and brittleness and improve flexibility, moisture, and shine for more dramatic-looking eyelashes.  Daily use provides immediate conditioning benefits; leading to healthier-looking, more luxurious lashes.
A breakthrough, category-leading eyelash conditioner featuring a high impact, proprietary technology for dramatic-looking eyelashes.
Conditions the eyelashes to help protect from brittleness and breakage
Helps improve flexibility, moisture, and shine
Helps defend eyelashes from daily aggressors
Enhances the appearance of beautiful, younger-looking, more luxurious eyelashes
High impact BioPeptin Complex™, peptides and botanicals saturate the lashes with moisture, keeping them soft,
luxurious, & healthy-looking
Revitalsh products are Dermatologist Reviewed, Ophthalmologist Reviewed, Clinically Tested, Hypoallergenic and Non-irritating
Couple of other things to note with this product.   Revitalash makes lots of different products.  The lash grower comes a 3 month size which looks similar.  If you find a disparity in price, it is probably due to this.  Also, you want to ensure you are using the newest formula.  It was just released in October of 2014.   If you are finding something at a discount outlet, it is the old formula.
You can order it online from us using this link: http://www.queenbeesauce.com/index.php?main_page=product_info&cPath=44&products_id=566
Queen Bee Skin Care is an organic skin care company that formulates and manufactures products in Pagosa Springs, Colorado.  Selling specialty skin care items online for years, some of which have been featured in the Denver Post, Amazon and Dr Oz's popular daytime TV Show.  Specializing in botanicals packed with nutrients from flower and seed oils that nourish your skin and spirit!   Like us on facebook!  To purchase your favorite organic skin care items, you can shop online at www.QueenBeeSkin.com or give us a buzz at 970-316-buzz