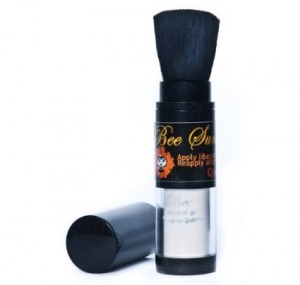 We are sad to say goodbye to this handy refillable brush.  All units like this are made in China and have inconsistent parts.  We are no longer able to find a supplier for this that is as good as this one was.  So, we have to say goodbye to this unit.
Not to worry, we will continue to sell our double-blocking Bee Sunny mineral powder sunscreen, but you will find it in different shaped shaker jars and will need to use a dark brush to apply.  We will plenty of fabulous options, just not this one that we fell in love with at the start of mineral powder sunscreen journey.
You can find all our sunscreen options here:
http://www.queenbeesauce.com/index.php?main_page=index&cPath=45&zenid=41613a92bd739d5f04465f47627db2b1
There are about 50 units left April 28th.  When those are gone, that is it.  If you are smart, you will stock up now while supplies last.
Queen Bee Skin Care is an organic skin care company that formulates and manufactures products in Pagosa Springs, Colorado.  Selling specialty skin care items online for years, some of which have been featured in the Denver Post, Amazon and Dr Oz's popular daytime TV Show.  Specializing in botanicals packed with phyto-nutrients from flower and seed oils that nourish your skin and spirit!   Like us on facebook!  To purchase your favorite organic skin care items, you can shop online at www.QueenBeeSkin.com or give us a buzz at 970-316-buzz.