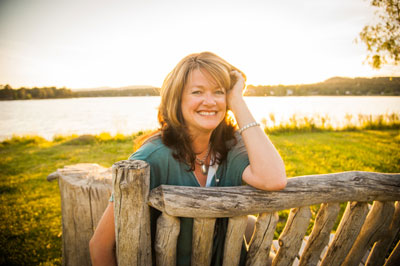 Anyone who has seen the movie Baby Boom can relate to Lynne Killey's experience creating Queen Bee Organic Skin Care  After years in the high stress rat race of San Francisco high tech and advertising fields, Lynne retired to the small ski town of Pagosa Springs Colorado in hopes of getting closer to nature.  Although Colorado proved a fantastic getaway from the hustle and bustle of the city, adjusting to life without the pampering packets of monthly Neiman Marcus deliveries did take a little getting used to.
Finding very few beauty outlets in this neck of the woods and not being completely satisfied with the waste and expenses associated with shopping for mainstream beauty products on-line,  Lynne took a proactive approach and began learning to create her own homemade beauty products. Lynne's first efforts were devoted to small batches of simple products for her own personal use and slowly grew to include gifts for friends and family. Eventually a few local spas approached Lynne wanting to stock Queen Bee products and new retail packaging and labeling was born.
As the years have gone by and the product line has continued to grow Queen Bee has proved a dream come true for Lynne, utilizing a lifetime of skills.  Who would have imagined that taking cooking classes all over the world would allow her to use the same sense of texture, scent and quality of fresh ingredients in her own products years later, fine tuning them to find fresh answers to everyday skin care needs.