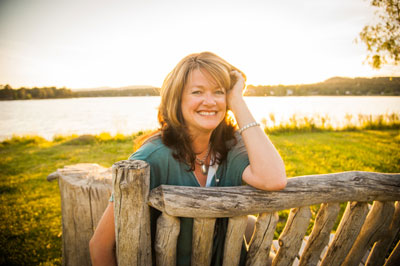 Master esthetician, Lynne Killey, has credentials and is certified in all forms of  medi spa facial services currently offered.  She has been providing advanced skin care treatment options for clients for fifteen years in Pagosa Springs.
You can trust that her hands-on training and research will ensure your skin care concerns are addressed completely and that you will see dramatic results.  The new facial studio is equipped with all the best "big city" tools and Lynne's loving touch will transform your skin in a way you wouldn't think possible in our little town of Pagosa.
She created a complete line of organic facial skin products almost 20 years ago and has clients that come for services from all over the country.  In addition to formulating Queen Bee Organic Skin Care she has collaborated with Linda Parelli to create Linda's Natural Skincare line.  Several other consulting projects also take advantage of her "savant" like understanding of product formulating.
[Watch Queenie Talk | VIDEO LIBRARY]
Alexa Martinez joined our team providing nail services in the summer of 2021.  Many of you will know her and her family ties in Pagosa.  She is currently working on her esthetician license.  She has a passion for learning and is keen to create a more pampering experience for your spirit, hands and feet.  We use products from Young Nails for dip, The Gel Bottle for gel nails and Zoya organic nail polish. For a big city girl spa service, try her hot stone pedicure!
Our store manager Christine Cochran has a passion for skin care and a background in nursing.  (Ask her about running the Boston marathon next time you see her.)
At the front desk, Debbie Roseth, Jennifer Monday & Barbara Hendrix will be happy to help with you product selections, customer service and a chit chat.
Behind the scenes, Colette Tressler helps Queenie with product quality control, manufacturing and inventory management.  Worker Bees Joyce Ryan, Joan Ward & Kathy Kundeman help with projects including assembly, packing amazon inventory, filling bottles, labeling and moving us forward.