We have a lot to be thankful for here at Queen Bee Organic Skin Care in Pagosa Springs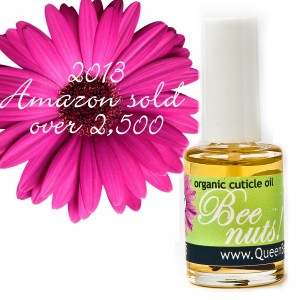 Well as one year ends and the next begins, we always take this chance to go through our best sellers and work to improve on them.  You can imagine our surprise when we realized that while we are busy working away making our favorite cuticle oil, we hit a major milestone.  Bee Nuts organic cuticle oil was one of the first products from Queen Bee.  Well, it has sold over 2,500 on amazon alone!
So thank you for your bizzness and support on one of our all time favorite products.  We use it on our nails all winter, but in the summer it becomes our favorite ointment for bug bites.   It makes a nice little gift for moms and girlfriends that enjoy organics and want their hands to look their best.  Whatever the reason, seems like our customers agree that it works wonders on healing cracks in your hands and as an easy to apply cuticle oil.
We are happy to report that we can continue to support this level of sales volumes and still make each bottle by hand here in Pagosa Springs, CO with the help of our worker bee network.  We give thanks to you our customers for promoting our products and services!
Queen Bee Organic Skin Care formulates and manufactures products in Pagosa Springs, Colorado.  They have been selling specialty skin care items online for years, some of which have been featured in the Denver Post and Dr Oz's popular daytime TV Show.  Specializing in botanicals packed with phyto-nutrients that nourish the skin and spirit!  You can find Queen Bee on facebook too!  To purchase your favorite organic skin care items, you can shop online at www.QueenBeeSkin.com or give us a buzz at 970-316-buzz.