Botanicals the New Trend? Old news for Queen Bee customers.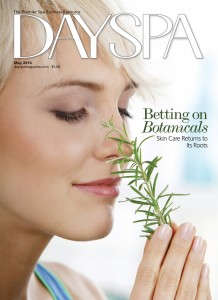 As Queen Bee Organic Skin Care prepares to celebrate her tenth birthday this summer, we notice more and more press on the topic of switching to ingredients that have healthier compositions.  This months cover of Day Spa Magazine (not organic spa magazine) .  Also in the mail yesterday was the new Bergdorfs skin care or beauty book.  There is a super high end company botancial based skin care company's products featured.  It is called Sunday Riley … $110 for one ounce of rich botanical oils.  This is the first time that both the skin care press and the high end merchandising heavy beauty counters are taking notice of the power of ingredients that are sourced naturally.  Everything you need for you skin can come from nature instead of a lab.
We know there will always be fans of vampire facials and injectable poisons like botox, but it is sure rewarding to have a trhiving botanical business in a category that is finally getting a little recognition from it's own industry.
We want to thank our loyal customer base for getting ahead of the trend and being willing to try the switch to pure botanical oils rich in phyto nutrients instead of department store chemical laden lotions.  We hope you continue to have glowing radiant skin and that we can help you make the choices right for your skin.
Here is a link to the latest version of our skin care matrix which helps you identify the products that suit your skin type.  As always, you can call or text us with your questions and we are happy to "bee" of service.
click here:  skin care matrix- 2014 Summer
Queen Bee Skin Care is an organic skin care company that formulates and manufactures products in Pagosa Springs, Colorado.  Selling specialty skin care items online for years, some of which have been featured in the Denver Post, Amazon and Dr Oz's popular daytime TV Show.  Specializing in botanicals packed with phyto-nutrients from flower and seed oils that nourish your skin and spirit!   Like us on facebook!  To purchase your favorite organic skin care items, you can shop online at www.QueenBeeSkin.com or give us a buzz at 970-316-buzz.