Organic C Serum with sea buckthorn and skin drops gains momentum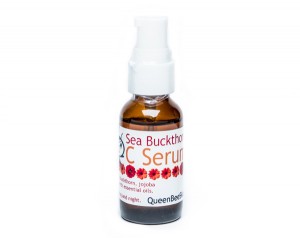 We created our Organic Vitamin C Serum with Sea Buckthorn and Skin Drops back in 2006.  It has been a very popular product since we formulated it.  We have changed the packaging now three times.  Bigger.  Bigger.  Biggest.
We originally shipped this in a two dram bottle, then a half ounce dropper and now in a full size one ounce pump bottle.  Seems like our customers just couldn't get enough!  We now sell thousands of bottles a year of this facial serum and we couldn't be happier.
Watch our formulator Lynne talk about this lovely product!  https://www.youtube.com/watch?v=gKmq6xbqE0g
You can find it both on our website www.queenbeeskin.com and on amazon if you want extra fast shipping options.  How ever you find it, we think you will love the way your skin softens and becomes more radiant with daily use.