Hello Lavender Bathtime Fizzballs!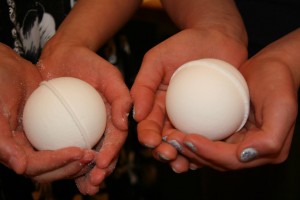 Since  last summer, the Queen has been working out a way to help a young girl in Boulder create a fizzing bath ball bizzness.  Lauren Wilson will charm you with her energy, thought provoking smarts and her concern for the environment.  (She might also be a dog whisperer.)
She worked through all the match to ensure they would be profitable, bought an automated pneumatic machine to make them consistent. We created a list of supplies and suppliers that make great products to ensure quality.  Queen Bee has matched her start up expenses and is going to do her online sales for now.  She plans to do farmers markets and sell them for school fundraising activities.
Today, you can help us get her started by "liking" her facebook page which will be her official website for now.  I promise you will love her and the yummy bath fizzers she has created!
https://www.facebook.com/pages/Enchanted-Bodies/650757804977413
We are going to sell the fizzers in lavender to start and two of them for $12.  If you come in for a facial in May, you will get this little treat as our gift to you.
Hopefully we will have them live on our shopping site by Ffriday this week!
Queen Bee Skin Care is an organic skin care company that formulates and manufactures products in Pagosa Springs, Colorado.  Selling specialty skin care items online for years, some of which have been featured in the Denver Post, Amazon and Dr Oz's popular daytime TV Show.  Specializing in botanicals packed with phyto-nutrients from flower and seed oils that nourish your skin and spirit!   Like us on facebook!  To purchase your favorite organic skin care items, you can shop online at www.QueenBeeSkin.com or give us a buzz at 970-316-buzz.