Sea Buckthorn C Serum so popular that we can reduce the price!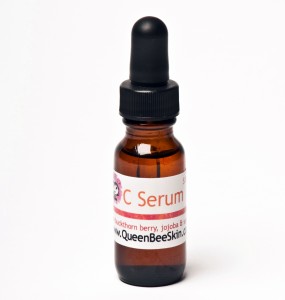 We know, sounds crazy.  Sell more and make it less expensive.  Yes.  That is what we are doing.  As of today January 3, 2014, we are reducing the suggested retail price from $38 down to $28.
Our vitamin C serum has always been one of our favorites, but now on amazon they sell a very small bottle and they sell thousands of them.  What that means to Queen Bee, is that we can now buy the ingredients in fresher, bigger sizes.  We thought what better way to say thank you to our clients than by passing that savings on to you!
So we have been able to reduce the half ounce bottle by $10.  Yes.  Ten very large Doll Hairs!   We hope it will continue to be one of your favorite products.  Watch for a one ounce bottle to come too.
Thank you for the love and loyalty…  Buzz Loud my little bees.
Queen Bee Skin Care is an organic skin care company that formulates and manufactures products in Pagosa Springs, Colorado.  They have been selling specialty skin care items online for years, some of which have been featured in the Denver Post and Dr Oz's popular daytime TV Show.  Specializing in botanicals packed with phyto-nutrients that nourish the skin and spirit!  You can find Queen Bee on facebook too!  To purchase your favorite organic skin care items, you can shop online at www.QueenBeeSkin.com or give us a buzz at 970-316-buzz.