Super-size my C Serum?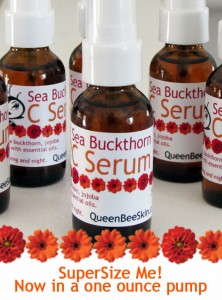 For quite some time, we have heard that clients love this product.  They had a complaint though.  They wanted it bigger.  Well, we are happy to report that we now have a super-sized Sea Buckthorn C Serum.  It is a amber glass one ounce bottle now with a pump. Retail is $48.  It will still stay fresh for about one year from the time of purchase and these new size bottles should last closer to six months.
As we migrate to this new larger size, you can still find the half ounce bottle on our website and on amazon.  Thank you for the love notes on this product.  We hope you will find this new size more handy and convenient to use.
Queen Bee Skin Care is an organic skin care company that formulates and manufactures products in Pagosa Springs, Colorado.  They have been selling specialty skin care items online for years, some of which have been featured in the Denver Post and Dr Oz's popular daytime TV Show.  Specializing in botanicals packed with phyto-nutrients that nourish the skin and spirit!  You can find Queen Bee on facebook too!  To purchase your favorite organic skin care items, you can shop online at www.QueenBeeSkin.com or give us a buzz at 970-316-buzz.